Best DIY Home Security Systems from iSmartSafe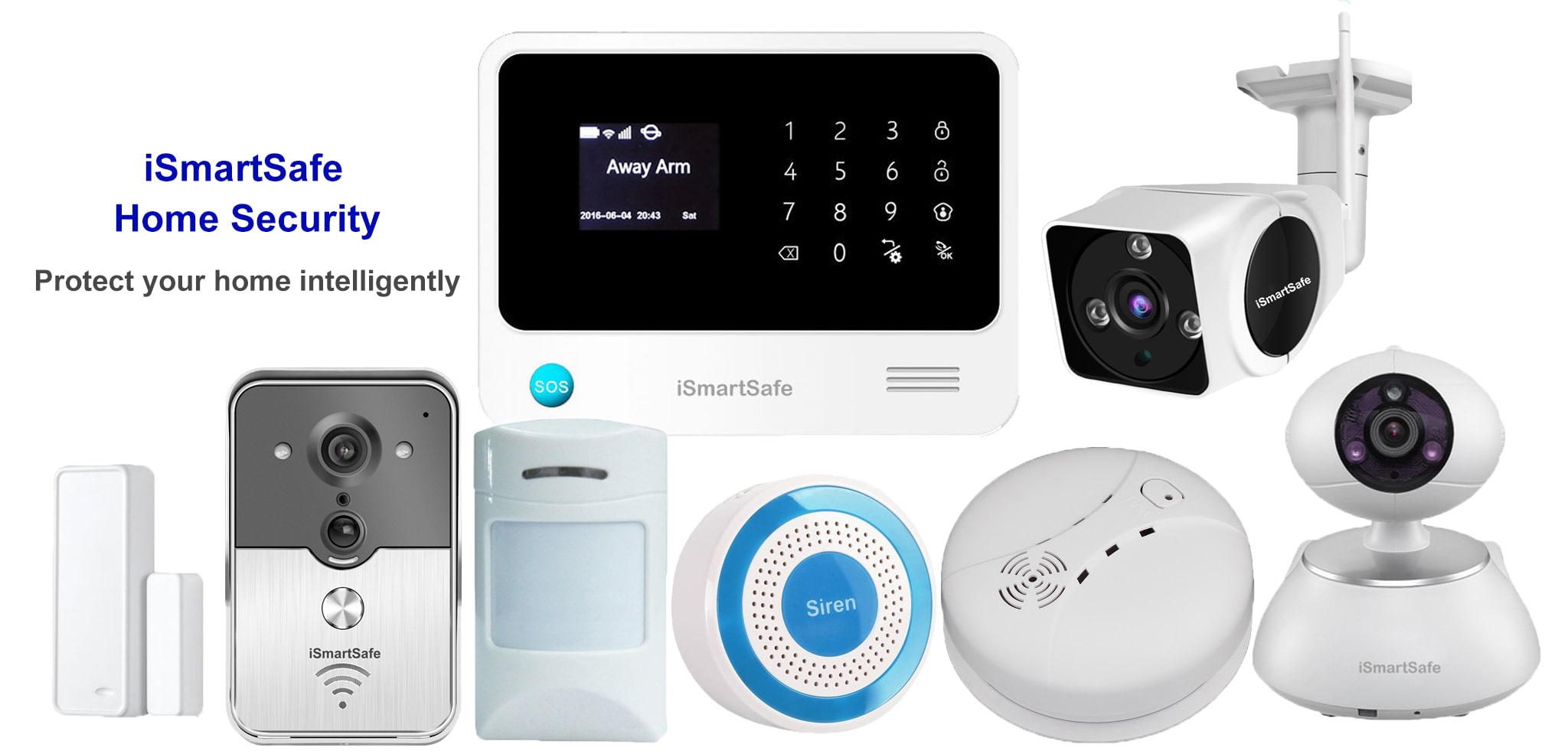 DIY Home Security Systems – Home Security Camera
iSmartSafe DIY home security systems are self-controlled and self-monitored wireless home security systems with no monthly fees and no contracts required.  The systems have WiFi and Cellular double connection with higher reliability. Free Apps for iPhone and Android smartphones. The systems can be easily expanded and customized.  Indoor camera, outdoor camera, and video doorbell are also available. 
Wireless & WiFi & Cellular Connection
The wireless technology is to avoid the complicated wire installation and utilize wireless communication between alarm panel and sensors. The combination of WiFi & Cellular connection is the most advanced and reliable technology in current home security market. It provides the additional protection for power outage and phone line cut. iSmartSafe home security systems are totally wireless, and have both WiFi and Cellular connection functions. In case power outage, phone line cut or losing internet connection, you are still protected by our home security systems.
Security Camera & Video Doorbell
Align with alarm security system, Indoor & Outdoor wireless cameras and video doorbells are also provided. All the cameras have the alarm push function, which enable the cameras to send snapshot and alarm notification to the owner when the alarm is triggered. Our alarm systems, home security cameras and video doorbells can work together. Security cameras and video doorbells can be remote access and live view.  The recorded video can be viewed through your cellphone without any charge.
Self-Monitored              Alarm Systems
Free APP will be offered to do self-monitor. Remote Arm and Disarm, and remote video surveillance are also available through free APP. There are no annual contracts, no monthly fee, no video storage fee, and no landline needed. In case something goes wrong, you're free to contact our support team. Best wireless DIY home security systems!
ISmartSafe DIY Home Security Features At A Glance
Wireless Sensors And Extreme Range
The systems are totally wireless and can support up to 100 sensors. The sensors can reach around 300-400ft range and protect homes of any size. The systems can be easily customized to fit your needs.
Cellular Connection
No phoneline Needed. Independent cellular connection that can't be cut by intruders. The systems have powerful Lithium batteries so you stay secure while the power outage.
Mobile Control
Free App! You'll have access to advanced alarm system from anywhere in the world! Use your smartphone or laptop to easily arm or disarm your alarm system, monitor your home and adjust your security alarm settings
No Monthly Fee
There are no annual contracts, monthly fee, hidden free, or middlemen
SMS Text & Email Alerts
With alarm and activity alerts sent directly to your phone, you'll know what's happening, when it happens. Instant alerts bring you real-time knowledge of arm/disarm notifications, alarm trigger alerts, power outage notifications, and more!
Portable -Take It With You When You Move
Pack up your iSmartSafe and re-install it at your next home. It grows with you, and you can always add more sensors anytime
Visual Monitor
With iSmartSafe Indoor and Outdoor Camera, you can monitor and record the video on your house at anytime and anywhere. iSmartSafe Cameras have built-in motion detector and horn. So when the alarm is triggered, iSmartSafe security camera will send the snapshot to your email and sound alarms.
Free And Easy To Install
Wireless & installs in minutes. With iSmartSafe, there are NO expensive set-up fee, NO complicated wiring, and NO strangers drilling holes in your walls! Best DIY Home Security Systems!
2-Way Communication
With iSmartSafe home security system, you can listen and speak with your family remotely because of 2-Way Communication technology.
Pet Friendly
iSmartSafe uses more precise motion sensors to ensure your pets won't trigger your alarms.
Double Protection
Cellular connection and WiFi connection. Double protection for your house. Never worry about losing WiFi signal, power outage, or phone line cut. You are always protected!
Power Outage Protection
iSmartSafe uses powerful lithium batteries that last 5 years so you stay secure when the electricity fails.
Smash-Proof Protection
iSmartSafe will send out the alert messages and sound alarming even if a burglar smashes the keypad.
Smart Smoke And Water Leak Detection
Wireless smoke detectors and water leak sensors ensure your safety in the event of a fire or water leak emergency.
Best DIY Home Security Systems From ISmartSafe
Join Over 3000 Users Who Love ISmartSafe
Why Do You Need To Choose ISmartSafe Home Security Systems? Look At On Actual Reviews Below:
I am glad that I chose iSmartSafe home security system. I love their double protection from WiFi and Cellular, so never worry about losing power or WiFi. the price is also affordable!
No contract, no annual fee, self-monitor, video surveillance, remote access, free APP and so on. That is exactly what I want!
Easy installation! text and email and phone call alerts when alarm is triggered! So far I have found no problems with any of it! The customer service is fantastic!
Get In Touch With ISmart Safe
Still have Questions? Contact Us using the Form below.
Phone Numbers:
(832) 696-0868
Email:
support@ismartsafe.com
Office Hours:
Monday – Friday 9 AM – 8 PM

Address:
2323 Clear Lake City Blvd, Suite 180-235                                                   Houston, TX, 77062